November 18, 2013 in General Topics, Slideshow Topic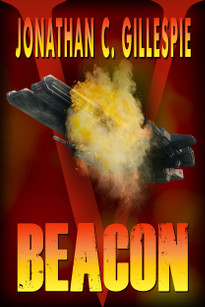 Finally! Here's Beacon – Part V, weighing in at eighteen thousand words of awesome. That's the longest installment yet.
Excited? Then don't let me keep you. Head to the installment's page to find links to it on your choice of ereader platforms.
I realize that there are some of you out there that haven't even read Part I yet. Well, I've good news: you can still grab Part I absolutely free (where available).
Here's the blurb:
A family struggles to reunite in the wake of a surprise attack. Part V of the Beacon Saga.

Peace slips away as mankind and its allied aliens mobilize their navies. Separated and questioned, Mally confronts the growing power of a militant shiplord, while Thrat and Rurek endure interrogation. Luckily, there are other forces at work in the fleet, and the scouts are not alone. Help will come from the least expected of places. But a different revelation will change Beacon forever.

A serial installment of eighteen thousand words.

This one was such a battle to finish. Having already scrapped the first half of the installment, I rewrote it, and felt like I was really on the right path. My beta readers promptly found some major issues, so I had to rewrite the tale again, and I think this final version is so much stronger for it. But all this work did lead to some delays in releasing this piece, and for that, I apologize.
I sometimes wonder if I shouldn't retread old ground with these announcements, but it just doesn't feel right not to thank folks. All of you out there–readers, beta readers, editors, cover artists, etc–are keeping the Saga in orbit. And I do thank you so much.
Remember that your honest feedback helps me improve, so whether you want to leave it in the form of a review, or a note on Facebook or Twitter, or just email it to me–it is so very appreciated.
Stay tuned.