September 11, 2014 in General Topics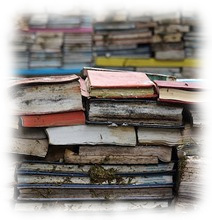 Recently I viewed a Netflix original series and nearly found myself as distraught as its protagonists. One might read that and think it's a good thing. It isn't.
Hemlock Grove is a series drenched in all-American, old school Gothic horror. When it's working well, it's a brooding, atmospheric throwback that reminds me of the made-for-TV movies and miniseries spawned by Stephen King's books. Watching it felt like coming home. The series has the substance of so much TV and film I devoured in my teenage years.
The first few episodes had their problems–uneven acting, dangling plot lines and inconsistent cinematography–but high points as well, such as one of the best werewolf transformations I've seen, and I believed firmly that Hemlock Grove was going to be a wonderful diversion. Lately, though, I've found my interest in the show waning. It's in part due to its uneven quality.
But also the fact that Hemlock Grove is just the latest show to become an active participant in the smut arms race.
To wrap your head around my point, I want you to think about what defines premium content on the top-tier subscription cable channels, and then keep that in mind while I continue.
I get the feeling that there were certain decisions made at the top when Netflix decided that it needed to have exclusive, original content. There were checkboxes. Most of these were benign. One such objective was securing top-shelf acting talent, like Robin Wright and Kevin Spacey for House of Cards. Another was higher production values than typical basic-cable series. Netflix needed to emulate the exclusive content of an HBO or Showtime.
That's all well and good. Where Netflix's cynicism shows, however, is when they bring aboard a hired gun like Eli Roth. Eli Roth is the Executive Producer of Hemlock Grove.
I first encountered Roth's work in Cabin Fever, a flick about a flesh-eating virus and dodgy townsfolk descending upon a group of college kids off for a weekend getaway. It wasn't a great movie, but it was a decent slice of horror, and it wasn't afraid to have a few laughs along the way.
So when Hostel came along a few years later, my wife and I decided to give it a shot. We'd heard the film might have some rough content, but I didn't figure it would be that bad. After all, this was Eli Roth, who seemed to understand–based on what I saw in Cabin Fever–that content should serve the plot, and not the other way around. Here was a guy I trusted not to go overboard for the sake of going overboard.
So, Hostel. I cringed. I squirmed in my chair. Yes, it was effective, but effective like those videos of cage-kept food dogs in the more controversial quarters of South Korean food markets. Hostel wasn't entertainment for me. It was something else. Something so graphic and sadistic I never wanted to see it again.
It wasn't just violence for the sake of violence that was an issue, either. Nudity was present, but not nudity to serve the plot. This wasn't Rose reclined on the sofa in Titanic. This wasn't even Daenerys being nude in certain certain scenes in Game of Thrones. This was as close to soft core porn as one can get, including an extended scene featuring an entire brothel full of nude women arranged like a buffet line in front of the camera. It was like Roth was jumping up and down in front of his audience and yelling "This is what you came to see, didn't you?". It made me uncomfortable to watch it alongside my wife, because I respect her, and because I'm a hopelessly old-fashioned kind of guy. The fast forward button got a lot of use that day.
I don't want you to get the opinion that Hostel is wholly ineffective horror. Because when one looks beyond its tacked-on bits, they find a film speaking, like all effective works of the genre, to a subconscious fear–in this case, the fear of that path less traveled, of getting in over our heads in a foreign country.
The problem is, it could have been so much more if Roth hadn't lunged so far in over his own head. The issue Hostel had has been inherited by Hemlock Grove: neither has restraint. And the fact that Roth seems to imagine that lack of restraint as a boon rather than a demerit should be a matter that bothers anyone, regardless of their moral bent.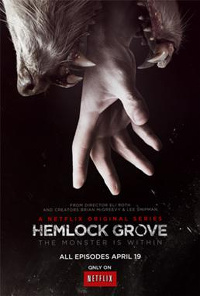 Let me give you an example. Kaniehtiio Horn plays Destiny, a gypsy fortune teller\medium who sells a variety of services from her storefront. Some of these services are intimate. The first few times we see Destiny, her presence makes sense. She's here to help Roman and Peter, the show's main characters, understand what it is that's been killing people in the sleepy town of Hemlock Grove, and her unique abilities can help with that. Roth's team uses the character in a way that serves the plot.
Unfortunately, this doesn't last. When a conflicted beast hunter named Dr. Chasseur (Kandyse McClure) comes to town, there's a scene where she questions the gypsy in order to further her suspicions on the identity and nature of the vargul that is stalking the townspeople.
This scene should be an initial, guarded conversation, followed by some intense verbal jousting. After all, if you've kept up with the show to this point, you know that Chasseur thinks Peter is the real killer, and Destiny–literally a clairvoyant–should have every reason to be suspicious of her motives, if not outright hostile to them. Chasseur is gunning for a family member, after all.
Instead, we get a sex scene, with a ham-fisted lead-in that's like something out of many male viewers' fantasies. Roth and his fellow showrunners are aware of those fantasies, and they decide to serve them, rather than Hemlock Grove's storyline.
That the scene is a trainwreck should be even more frustrating to those involved in creating it. Kaniehtiio Horn and Kandyse McClure should both be irritated over getting treated like erotic performers for the whims of the audience, as if their acting abilities alone weren't enough. Roth should be frustrated, especially with his writers, because this kind of scene could be viewed as an admission that Hemlock Grove hasn't enough merit alone to be appealing; that it must include such a clunky skin scene in a desperate attempt to foster viewership. He should be further upset because leaving the scene in allows people to suppose his skills as a filmmaker suffer from the same malady. Netflix should be upset, because little things like this impact the image of their exclusive content.
And so you won't think I'm making a mountain out of an anomaly, understand it's not the only occurrence of something like this in the show. Witness, for example, when what could have been a tender, romantic scene between Peter and his love interest, Leetha, turns sour when she asks him to "f*** her", as if tilting from sweet to crude automatically improves the quality of the moment.
But are Roth and his, and his team's methods solely to blame? Hardly. One can easily suppose Netflix hired Roth for the show specifically because Roth has developed a reputation for injecting eroticism and violence onto the screen, malformed though it is. I suspect someone at the top–probably multiple someones–decided this aspect of the show needed to be present. It was as important in their minds as everything else Hemlock Grove might bring to the table.
And this is all a product of the smut arms race, so especially visible in premium and exclusive content. Hemlock Grove isn't the only show taking things too far. Orange is the New Black is certainly guilty of it, and there's a fair argument to be made that Game of Thrones–a series I enjoy–sometimes does the same, with scenes that differ from the content of the books in a way that allow them to ramp up eroticism. (Shows are stepping up violent content, too, but right now wedged-in sexual content seems to be the main accelerant wave).
That these decisions are being made with increasing fervor should give all of us pause, particularly those of us in the business of crafting fiction. Because propagating the idea of plot serving content–and not the other way around–is destroying the quality of what we're making. When a scene is injected into a work in the name of titillation over everything else, it's as unnecessary for that work as a long expositive scene irrelevant to said work's worldbuilding–or any other unnecessary fat-creator you can think of.
Restraint is becoming passé. We are now viewing the opposite impulse as some kind of bellwether of top-shelf fiction.
I still hold to the idea that the act of crafting fiction–whether a story, book, film or even game–is important, and that what we make can endure long after we're gone. We can inject some small, lasting aspect of ourselves and our work into the broader culture around us, potentially with ramifications that can reach for centuries. That's what art is. It's breaching the mortality of our years and projecting our voice forward in a way that allows us to speak to those that come later.
Five hundred years from now, 1984 will still be hailed as visionary. Blood Meridian will be called a seminal work portraying the real American "wild" west. The Fault in Our Stars might be assigned reading the same way that Wuthering Heights is right now, for all we know. Ditto with Harry Potter and the Sorcerer's Stone.
In contrast, no one is going to remember the works of the "sex sells" crowd, or the torture-porn acolytes. Cosmopolitan and Maxim might provide insight into the culture of the time, but no one is going to seek out their antique back issues the way they might National Geographic. The millions of bodice rippers and adult titles published every year will not endure to populate some physical or virtual shelf labeled "classics" in the centuries hence. Fifty Shades of Gray will fade to black.
As much as I like horror, its plunging into this trend means many of its books and films look exactly alike, and that sameness is going to self-limit much of the genre's works from ever achieving lasting notoriety.
"Jaws" and "Citizen Kane" will be spun up on the direct-to-neural content systems of the future. "Hostel: Part III" won't. The people who are in the positions to define the quality of what they make, who have decided that plot and characters come first and that content serves the story and not the other way around, have given Star Trek and X-Files and Cheers and The Simpsons and The Sopranos and Mad Men the best shot of enduring beyond the lifespan of their creators.
In the other camp are guys like Roth. And the tragedy of that is that many–like Roth himself, I still think–could be leaving a legacy of great fiction if they'd only break free of the arms race.
I'll close with words from one great work that will endure:
"Is the dark side stronger?"
"No, no, no. Quicker, easier, more seductive."