September 19, 2017 in General Topics, Other Stuff
99 Cent Science Fiction and Fantasy Books!
I hope you enjoyed last week's promotion, and found a number of new works to enjoy.
This week we're pleased to present a number of 99 cent discounted eBooks from a host of science fiction and fantasy authors. If you'd like to check out this deal, just click the image below: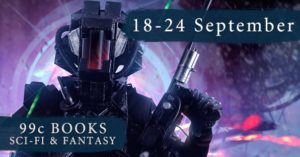 In case you can't see the above image, you can access the promotion through the below link:
http://sffbookbonanza.com/99c-books-sep-2017/
Have a terrific day!