November 18, 2013 in General Topics, Slideshow Topic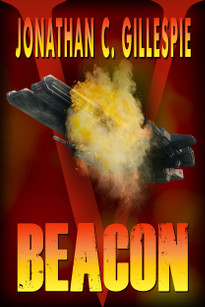 Finally! Here's Beacon – Part V, weighing in at eighteen thousand words of awesome. That's the longest installment yet.
Excited? Then don't let me keep you. Head to the installment's page to find links to it on your choice of ereader platforms.
I realize that there are some of you out there that haven't even read Part I yet. Well, I've good news: you can still grab Part I absolutely free (where available).
Here's the blurb:
A family struggles to reunite in the wake of a surprise attack. Part V of the Beacon Saga.

Peace slips away as mankind and its allied aliens mobilize their navies. Separated and questioned, Mally confronts the growing power of a militant shiplord, while Thrat and Rurek endure interrogation. Luckily, there are other forces at work in the fleet, and the scouts are not alone. Help will come from the least expected of places. But a different revelation will change Beacon forever.

A serial installment of eighteen thousand words.