May 16, 2014 in General Topics, Slideshow Topic
Read Beacon – Part VII today!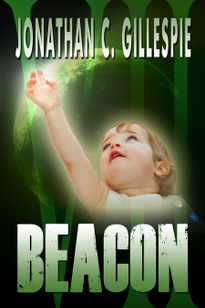 It's the last short-length installment before the conclusion of the Beacon Saga. I'm proud to release Beacon – Part VII, available for purchase now. It's just over seventeen thousand words.
Releasing this installment gets to the subject of concluding this long odyssey, which I'll get to in a moment. But here's the obligatory links first:
You can go to Part VII's page to find it on your choice of ereader platforms. If you've never started the series, give it a shot with Part I, for FREE (where available).
Here's the blurb:
---
Alliances collapse. War rages. But a child's secret could overshadow it all. Part VII of the Beacon Saga.
Mally, Tersias and Nastron take a ship helmed by a dangerous pilot to a secret meeting in the heart of Beacon's deadliest layer. Thrat suspects a growing plot against Baelick, and finds himself having to make hard choices. An incredible theory comes to light. This, and more, in the last installment before the Beacon Saga's conclusion.
A serial installment of seventeen thousand words.
---
Read the rest of this entry →