October 23, 2014 in General Topics, Slideshow Topic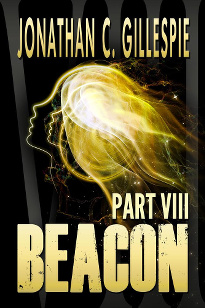 We're finally here! Beacon – Part VIII is now available, and it marks the end of the road for this serial.
Head to the installment's page to find links to it on your choice of ereader platforms.
Please don't forget that you can still grab Part I absolutely free (where available).
Here's the blurb:
Part VIII–and the end–of the BEACON SAGA SERIAL.

Out of time and out of options, a desperate alliance will risk everything to stop an interstellar war.

The Cholsons, Nastron and the Petack have come together for an audacious experiment that will place them squarely in the crosshairs of the Nomads. In the jungles of Promise, Thrat struggles to evade search teams sent to capture him–or kill him. Aboard the Rigolo, Sarki and Castor plot an escape from the clutches of the fanatical shiplord, Rara, who is marshalling the first layer's remaining strength for a terrible purpose. Secrets long-hidden will be revealed, great powers will hurl their might upon each other, and a force greater than anything the universe has ever seen will be unleashed.

A special novella-length concluding serial installment of nearly sixty thousand words–more than three times the length of any previous.
Finishing the Saga wasn't easy. This is probably the single most challenging work I've released during the course of my fiction career. Real life seemed determined to keep it from happening, or at least seemed determined to damage the quality of the finished product. It's been a summer where just about everything that could happen did.
Putting out a polished piece is something I take very seriously–people are giving me their hard-earned money, after all. There's also the burden of the story itself, and the debt you feel to your craft to get the work done right. So I didn't want to deliver anything but excellence. That meant this tale ran through the usual gauntlet of creation, revision, beta reading, professional editing, layout, cover design, etc. There were the usual mundane items, too, like registering the ISBN and (finally) publishing it to all the different vendors.
That was all done in a compressed period of time because of the installment's length. I couldn't very well take a year to push about this piece. My readers deserved better. This was the conclusion, after all. So, from before the time that Part VII was published, I was turning and burning on Part VIII, writing at an almost feverish pace.
But in the middle of that process, we welcomed our second daughter into the world. Shortly after the baby came home we endured an epic infestation by insects I'd never even heard of before; the purging and cleanup of which obliterated me after the exhaustion of caring for my wife and child post-natal. It became a 72-hour ordeal that claimed any sort of celebration for my birthday with it.
This summer I sprained my foot so bad I developed plantar fasciitis. I had to replace my HVAC system, which involved bringing out a contractor and coordinating everything with them (we were sans AC because of a leak for several days, which led to me having to mop water off the floor every night with a towel–I kid you not). Our dishwasher went out and had to be replaced, so we were hand-washing dishes for a few days. We had two cancer scares in my extended family, both of which led to surgeries. Part VIII's release prep coincided with the deployment of a years-in-the-making project at work. There was more stuff that happened, too, but I won't bore you further.
So yes, releasing this feels a bit like winning a battle. If I can do this, I can do anything to make my fiction succeed.
And then there's my cohort–you readers out there–who are spreading the word and breathing life into the saga. Without you, all my determination means nothing. I thank you all from the bottom of my heart.
I'll close with my standard reminder: feedback is hugely important. Reviews are awesome and drive so many things on the publisher outlets, like discoverability, but feel free to also/instead drop a note on Facebook or Twitter, or just email it to me–with my sincere thanks. And tell your friends, folks. I don't really sell to readers. It's readers that sell to readers.
Stay tuned over the next few days for an announcement on my next project. See you then.
Happy reading.