August 5, 2016 in General Topics, Other Stuff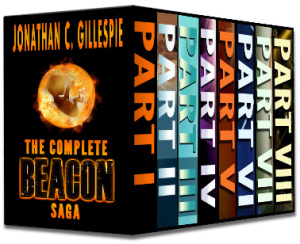 The Beacon Saga Serial started as a stand-alone tale. I realized the universe deserved more than that, and was just too compelling to leave alone. So, that single story quickly grew into an eight parts, most of which were sequentially longer than those that came before. I then published an Omnibus (that includes bonus content).

I'm confident that this serial offers something special to readers. Most folks who have left reviews seem to agree. But the simple fact of the matter is that it no longer behooves me to keep it available on other platforms, because the sales just aren't out there. So, very soon, the Beacon Saga Serial will become exclusive to Amazon\Kindle.
The money The Tyrant Strategy is making by being exclusive, even with its final book not yet out, has made this decision easy. Plus, since the Kindle app is available on just about every platform, there's no longer the question of imposing restrictions on the reader base, like there was when I first published the Saga.
Of course I still have some trepidations about so dramatic a move. But it's time to put fear aside and give the inhabitants of Beacon a chance to reach for the stars.
Click here to begin the saga. Feel free to ask any questions in the comments below.