November 30, 2016 in Other Stuff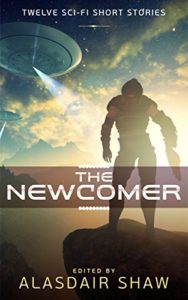 Looking for something to hold you over while you wait for the third book in The Tyrant Strategy? Look no further, my friends–I've got something perfect to help you through the winter months.
I'm pleased to announce The Newcomer is now available for purchase. Edited by Alasdair Shaw, author of the everything from physics primers to sci-fi novels, The Newcomer is an anthology of twelve science fiction short stories all centered around a common theme: the arrival of someone or something new. Where do I come in? I'll tell you in a moment, but first, check out the teaser for the antho itself:
From a young couple struggling to look after their baby to a new captain's reluctance to take command of her ship, and from a sun-addled stranger's appearance in town to the emergence of a sentient AI, the twelve tales presented here explore the central theme of an arrival by someone or something new.
There's even an alien puppy.

I'm pleased to tell you my tale "Right Hand" was accepted for the anthology. "Right Hand" is a prequel short story to The Tyrant Strategy novel series. You want the summary for that? I suppose I could drop it here, but really, I can sum it up best by saying it's centered on Daniel Bell's early experiences with the drones of Zone 6, out in the fortress town where he grew up. Before the collapse of the United States. Before Bell was introduced to something called the Serpican Police…
At $.99–yes, $.99–this is a killer deal, and having the paperback version available for $6.99 is just that much sweeter. An absolute no-brainer, folks. Do me a favor and pick up a copy, and leave a great review if you enjoyed it. Even better, check out the other work available by these authors. There's always room for something new.
---
Stories included in
The Newcomer
:
"Tithe" by Griffin Carmichael
"Exodus" by Alec Hutson
"First Bonding" by Tom Germann
"Ice Dreamer" by J J Green
"The Nanny" by Cindy Carroll
"Right Hand" by Jonathan C Gillespie
"What Make is Your Cat?" by Richard Crawford
"Kaxian Duty" by Cherise Kelley
"Lessons Learned" by J Naomi Ay
"The Humra" by Laura Greenwood
"The Hawk of Destiny's Fist" by James S Aaron
"Repulse" by Alasdair Shaw