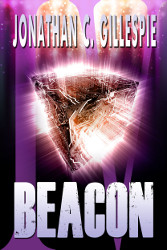 Part IV of the Beacon Saga.
They thought they were safe. Instead, they're targets. Part IV of the Beacon Saga.
What should have been a triumphant homecoming becomes utter chaos. Abandoned by their friends, and assaulted by unknown forces, the scouts must play a dangerous cat and mouse game through Beacon's mysterious third layer. They will uncover many secrets. But the most shocking will be what's happened in orbit while they've been gone.
A serial installment of sixteen thousand words. Continue the saga in Part V.