The Beacon Saga (Serial)

Beacon (Part I)
At the last star in the Universe, a young couple has done the impossible: they have conceived. And something has noticed.

Beacon – Part II
Everything ends. Everything falls. For centuries, that was the fate of those in Beacon's orbit. But now Mally and Tersias have a chance to change that–if they can survive.

Beacon – Part III
An unlikely quartet of scouts have dodged the Shroud and crossed hostile space to a new star. But an impossible discovery–and a sudden disaster–will test them in ways they can't imagine.

Beacon – Part IV
The scouts thought getting home meant they were safe. Now, they're targets.

Beacon – Part V
In the wake of a surprise attack, a family struggles to reunite.

Beacon – Part VI
Hope can be the most dangerous force in the universe. The battle for Estuary begins.

Beacon – Part VII
Alliances collapse. War rages. But a child's secret could overshadow it all.

Beacon – Part VIII
Out of time and out of options, a desperate alliance will risk everything to stop an interstellar war. The conclusion of the Beacon Saga.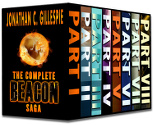 The Complete Beacon Saga
All installments of the Beacon Saga, plus a special bonus, available at a value price over buying each installment separately.