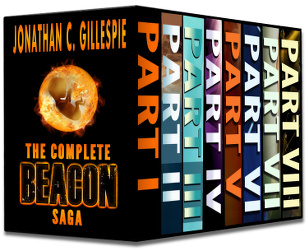 For the first time, this omnibus brings together all BEACON SAGA SERIAL installments in one special collection. Enjoy this well-reviewed serial from the very beginning, and a bonus "deleted scene", at a better value than purchasing all installments separately!
At the end of time, a miracle endangers a vast refugee fleet.
They call it the Shroud, and Beacon is the only star that survived its wrath. Within her orbit, humanity lingers on alongside every living species. Vast layers of ships can provide you everything–except children. So when Mally and Tersias conceive, they are instant celebrities, lavished with accolades and gifts.
But their act will carry a high cost, starting with the return of a specter from the past: mankind's most dreaded enemy. And the end will become the beginning, in this sweeping tale of discovery, of intrigue, of war, of love against all odds, in which the only thing more dangerous than the dead of space are a few terrible secrets.
A tale of nearly one hundred and sixty thousand words.. Read Part I (free, where available) if you've never tried the Saga.
Beacon (Part I)
Beacon – Part II
Beacon – Part III
Beacon – Part IV
Beacon – Part V
Beacon – Part VI
Beacon – Part VII
Beacon – Part VIII
Bonus "Deleted Scene"