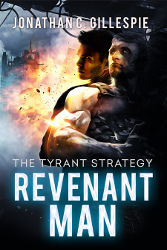 Since adolescence Reed Barowe has served in the Serpican Police, a powerful, alien-equipped agency enforcing peace on Earth. But running covert ops across a world still recovering from the madman Tak Akasa is dangerous work, and on a routine mission radicals kill Barowe's squad and capture him for interrogation.
Though able to escape, Barowe is betrayed by his unit and finds himself on the run with a living ghost–a man appearing to be none other than Akasa himself. In their journey through a shattered United States and into a guerrilla resistance waged against a brutal dictator, Barowe and his brilliant ally will make unlikely friends. And Barowe will find everything he was brainwashed to believe replaced by one question:
Will he help a man he's been trained to kill?
This is REVENANT MAN, Book One of THE TYRANT STRATEGY.