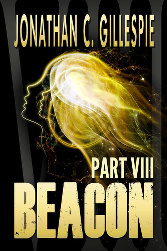 Part VIII of the Beacon Saga.
Part VIII–and the end–of the BEACON SAGA SERIAL.
Out of time and out of options, a desperate alliance will risk everything to stop an interstellar war.
The Cholsons, Nastron and the Petack have come together for an audacious experiment that will place them squarely in the crosshairs of the Nomads. In the jungles of Promise, Thrat struggles to evade search teams sent to capture him–or kill him. Aboard the Rigolo, Sarki and Castor plot an escape from the clutches of the fanatical shiplord, Rara, who is marshalling the first layer's remaining strength for a terrible purpose. Secrets long-hidden will be revealed, great powers will hurl their might upon each other, and a force greater than anything the universe has ever seen will be unleashed.
A special novella-length concluding serial installment of nearly sixty thousand words–more than three times the length of any previous. Remember to begin at Part I if you've never tried the Saga.
Special thanks to my readers, through whose kind words, support, and word of mouth has this all been possible.