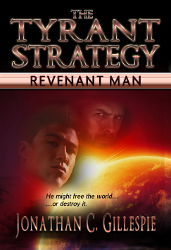 He might free the world…
…Or destroy it.



---
NOTE: THIS BOOK IS CURRENTLY NOT FOR SALE AND IS IN THE PROCESS OF BEING RE-WRITTEN. More information coming in 2015.
---
The first part of the epic TYRANT STRATEGY series.
---
Trained from childhood, and equipped with alien technology, Reed Barowe ranks among the deadliest in the Serpican Police—a shadow agency created to enforce the fragile peace on a fractured Earth. A chance encounter in an isolated village will introduce Reed to a man who should be long dead, a tactical genius that might be mankind's best hope for freedom—or its greatest threat.
In a journey that will take them both to a fallen United States, and into the heart of a growing revolution, Reed must decide: will he turn from everything he knows to help a man he's been trained to kill?