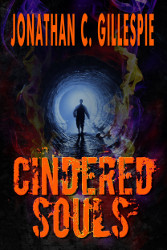 Five spinetingling horror tales.
A serial arsonist encounters a copycat with a deadly secret ("Consumed"). A terrible force stalks an isolated North Dakota widower ("The Encroacher"). Father and son battle for survival at the lonely apex of "The Eighteenth Floor" (an honorable mention for Best Horror of the Year, Volume 1). A thru-hiker on the Appalachian Trail finds himself watched by something in the forest canopy ("Trail Angel"). A mail carrier's route changes for the worse in "Anypeople". These five short fiction phantasms await the reader in Cindered Souls, author Jonathan C. Gillespie's first-ever horror collection.
"The Encroacher" is still available in free audio, at the time of this publication, via a well-regarded podcast site (the last episode of Variant Frequencies), and "The Eighteenth Floor" was once published in print, but this book features all-new versions, revised for content—and even better quality.
Cindered Souls: Contents under pressure.
(Parental warning: If you find "The Encroacher" as a podcast episode, listen to it before your kids do. It is not edited for content.)
So grab your copy, and enjoy some fiction for every reader.