This is a full list of currently available and upcoming titles.
The Beacon Saga (Serial)

Beacon (Part I)
(Science Fiction Space Opera)
At the last star in the Universe, a young couple has done the impossible. They have conceived. And something has noticed.


Beacon – Part II
(Science Fiction Space Opera)
Everything ends. Everything falls. For centuries, that was the fate of those in Beacon's orbit. But now Mally and Tersias have a chance to change that–if they can survive.


Beacon – Part III
An unlikely quartet of scouts have dodged the Shroud and crossed hostile space to a new star. But an impossible discovery–and a sudden disaster–will test them in ways they can't imagine.

Beacon – Part IV
The scouts thought getting home meant they were safe. Now, they're targets.

Beacon – Part V
In the wake of a surprise attack, a family struggles to reunite.

Beacon – Part VI
Hope can be the most dangerous force in the universe. The battle for Estuary begins.

Beacon – Part VII
Alliances collapse. War rages. But a child's secret could overshadow it all.

Beacon – Part VIII
Out of time and out of options, a desperate alliance will risk everything to stop an interstellar war. The conclusion of the Beacon Saga.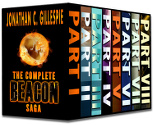 The Complete Beacon Saga
All installments of the Beacon Saga, plus a special bonus, available at a value price over buying each installment separately.

Short Fiction Collections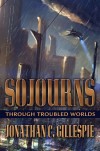 Sojourns Through Troubled Worlds
(Science Fiction Thrillers)
Dolphin soldiers, Autonomous metal-seeking drones, and an AI-equipped luxury car (on a drive through the apocalypse) are just a few things awaiting readers of this collection.

Cindered Souls
(Horror)
A collection of five short fiction phantasms to tingle the spine. Includes a double award-nominee.

Short Stories

"The Outlaw Contractions"
(Science Fiction)
FBI Agent David Warren thinks he's seen it all, working Reborn Affairs. He's never seen this. A Kindle-exclusive short story.

Upcoming
The Tyrant Strategy: Redone First Book and new Second Book — 2015
Legacy / Retired Titles

The Tyrant Strategy: Revenant Man
(Dystopian Military Science Fiction Thriller)
An alien-equipped covert agent, on the run from his own people, joins forces with a seemingly-reincarnated warlord.
Book one of The Tyrant Strategy.

CURRENTLY BEING REWRITTEN. MORE INFORMATION COMING 2015.